Leveraging Personal Organisation with Digital Mind Maps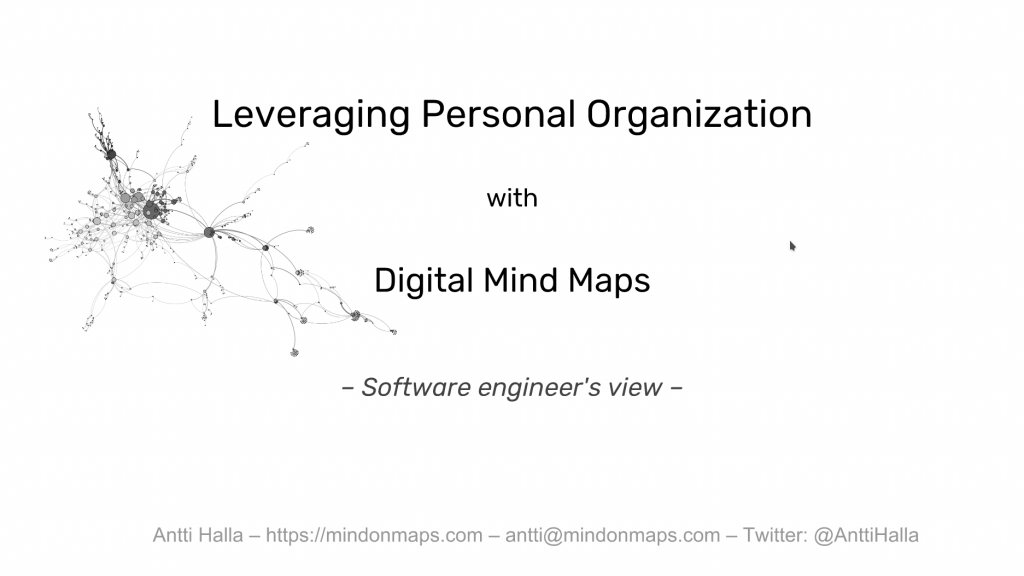 Leveraging Personal Organisation with Digital Mind Maps
Yesterday I had the pleasure of doing a guest webinar at Biggerplate Business Club, with the topic Leveraging Personal Organization with Digital Mind Maps – Software Engineer's View. The webinar was recorded, and you can watch the video in full here at mindonmaps.com. I hope enjoy it!
0:00 – Welcome by Liam Hughes / Biggerplate
3:00 – Presentation starts
4:40 – Who's talking
6:50 – Introduction
7:35 – Software engineer's view
9:54 – Digital mind maps
12:57 – Organizing thoughts
13:58 – Mind index
15:24 – Leverage
18:17 – Personal organization
18:36 – Personal network organization
20:30 – My mind map network
21:38 – Organize my thoughts, organize my life
22:07 – Mind map tour
(Mind map demo starts)
22:37 – My mind mapping style
29:55 – Towards networks: the mind map house
38:54 – These days, current context (the abstract mind house)
44:50 – Questions & Answers
Biggerplate is a great resource for all mind mappers. If you want to check out the Biggerplate Business Club, you can use my discount code ANTTI10 to get $10 off the annual subscription.
PS. This is my first recorded presentation here. I'd love to get your feedback on it, so I know where to take this from here! Leave a comment, write me an e-email (antti@mindonmaps.com) or drop me a line on Twitter (@AnttiHalla).
---